Manual Work Logging
Empower your workers to be more productive through simple logging processes and real-time communication.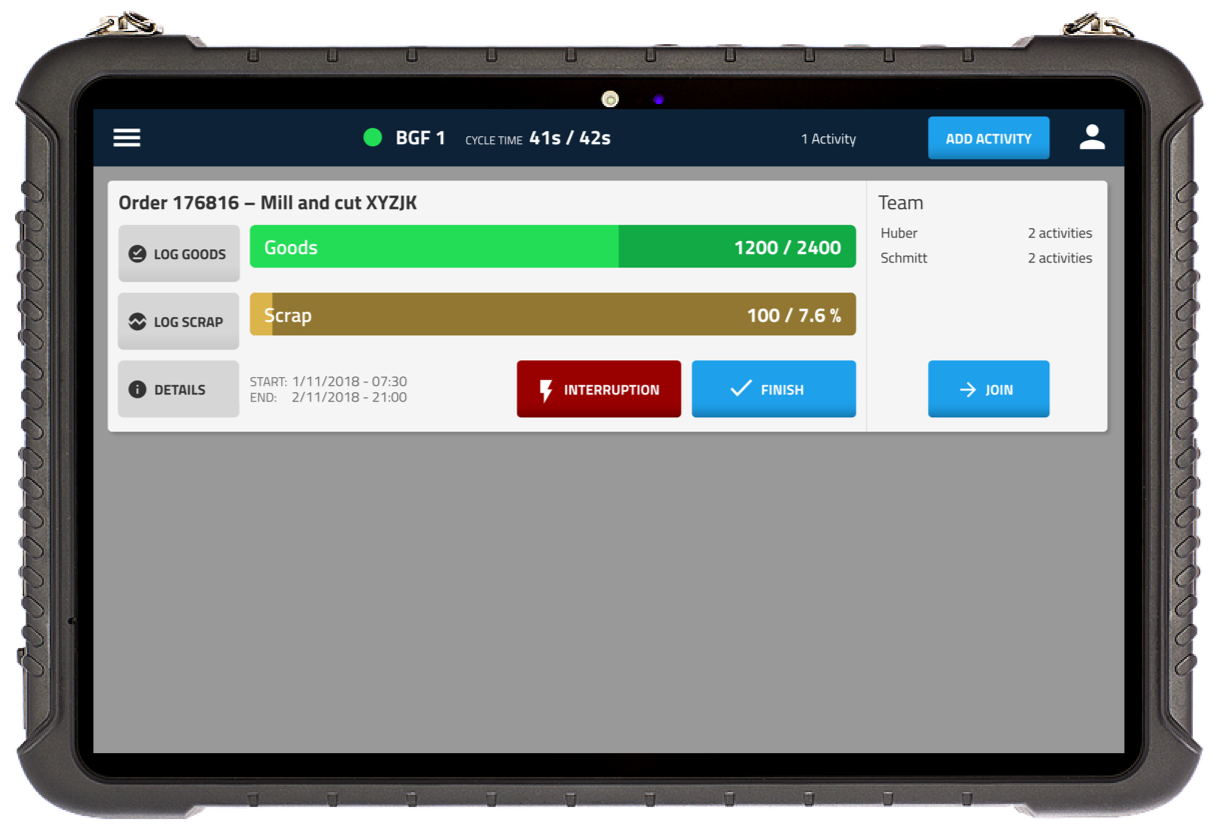 Overview
Actyx Manual Work Logging (MWL) is an easy-to-use app that enables quick reporting of working times and material throughput. Activities are imported into the ERP system via an Actyx integration. The app runs on supported devices (e.g. the Actyx T10 Tablet) which can either be mounted on the workstation or used mobile.

The app increases worker productivity by simplifying the accounting process. Data can be leveraged via data connectors or other Actyx Apps such as performance dashboards or mobile team collaboration.

Benefits
Actyx Manual Work Logging (MWL) reduces administrative effort on the shop floor by collecting production data with tablet terminals installed directly at the workplace and which are easy to use. By communicating priorities digitally, production increases flexibility and can react quickly to changes. Captured real-time data also supports short-term decision making by quickly detecting disruptions or delays. The data supports CIP in the long term.
Functionalities
The following functionalities are configurable.
Selection of a workstation Selecting the workstation displays the scheduled activities for the workstation
Logging of activity times Confirmation of start and end time of an activity or more activities simultaneously
Reporting of disruptions with cause of failure Confirmation of start and end time of a disruption and selection of the cause of the disruption
Logging of working times Logging of the working times of one or more users via RFID card registration
Reporting of yield/scrap for input and output material Logging of yield and scrap per activity, specifying a reason for scrap
Access to work description Looking at the description of the activity stored in the ERP
Completion notification of subtasks Complete notification of sub-task by ticking checkboxes in the description text
Assigned activities to the workstation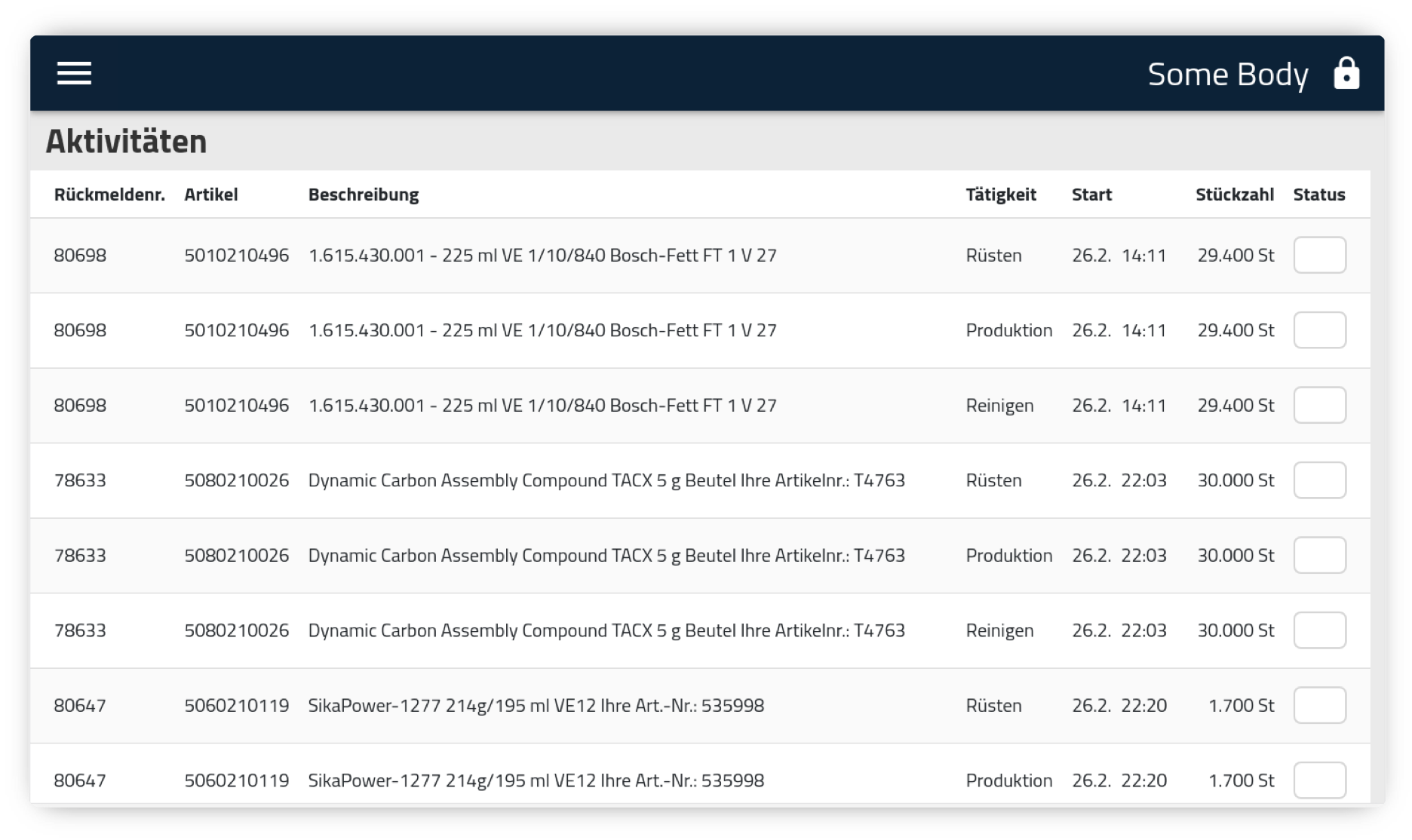 User interface for machine workstation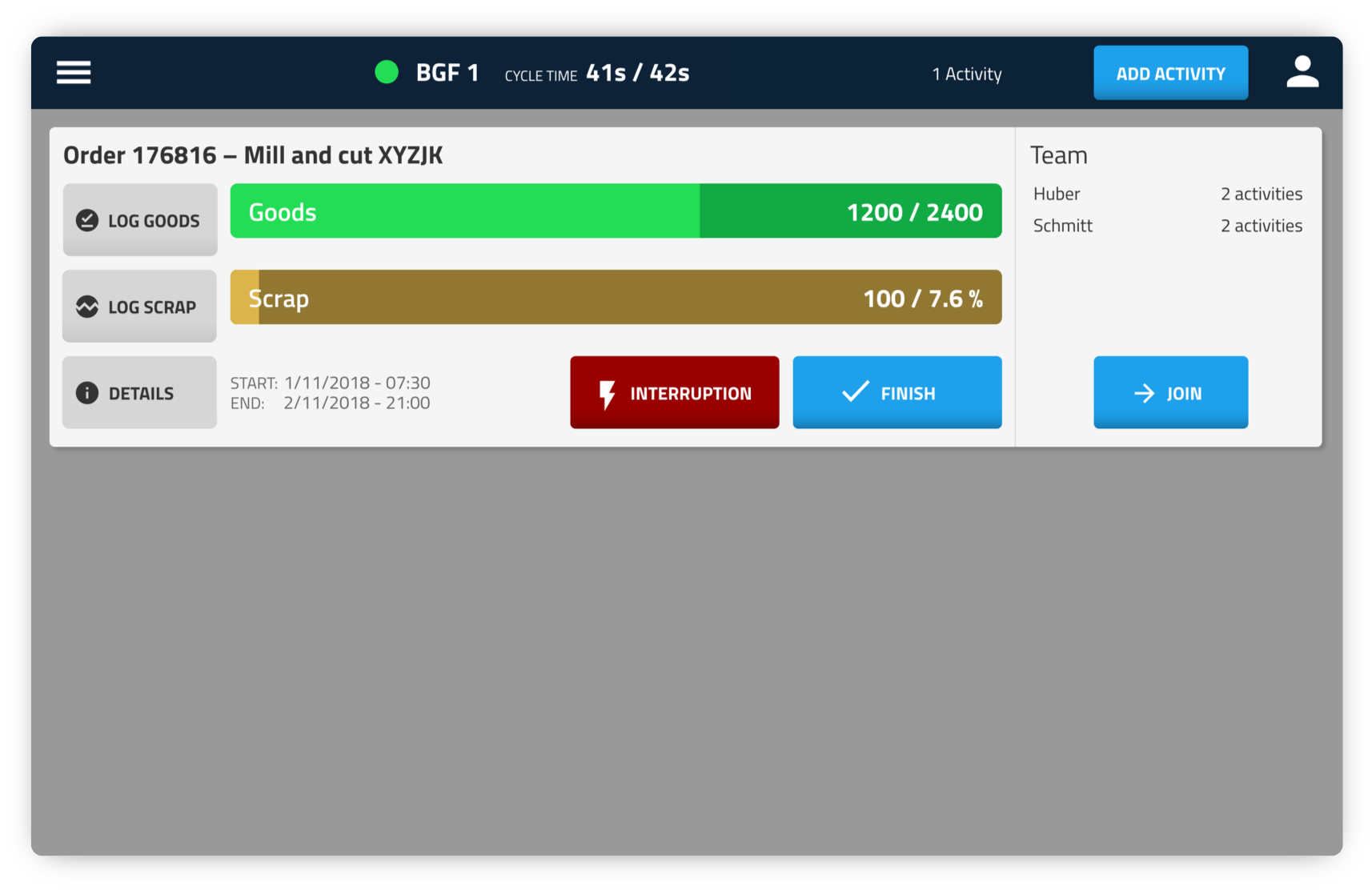 Logging of scrap at a machine workstation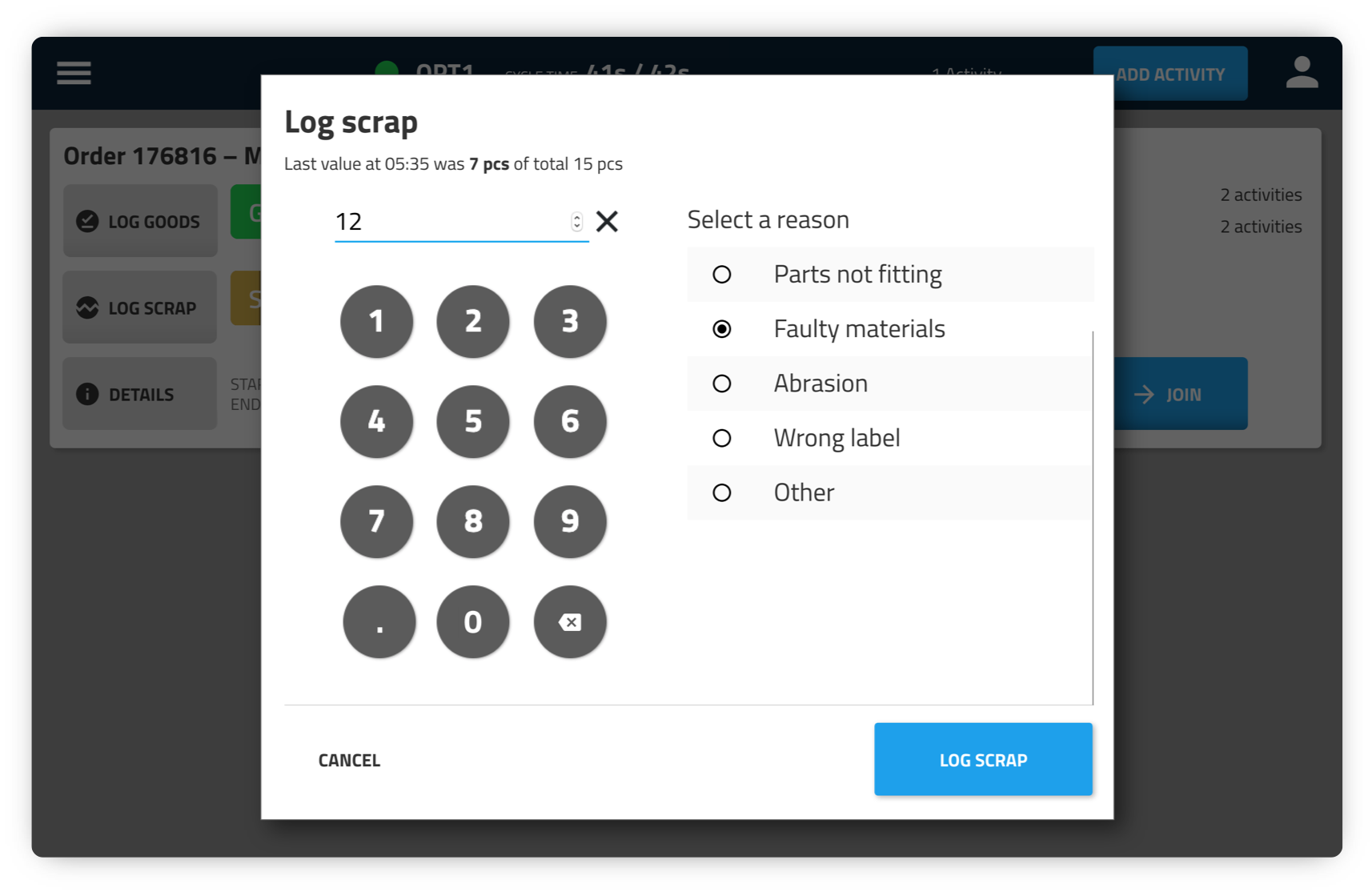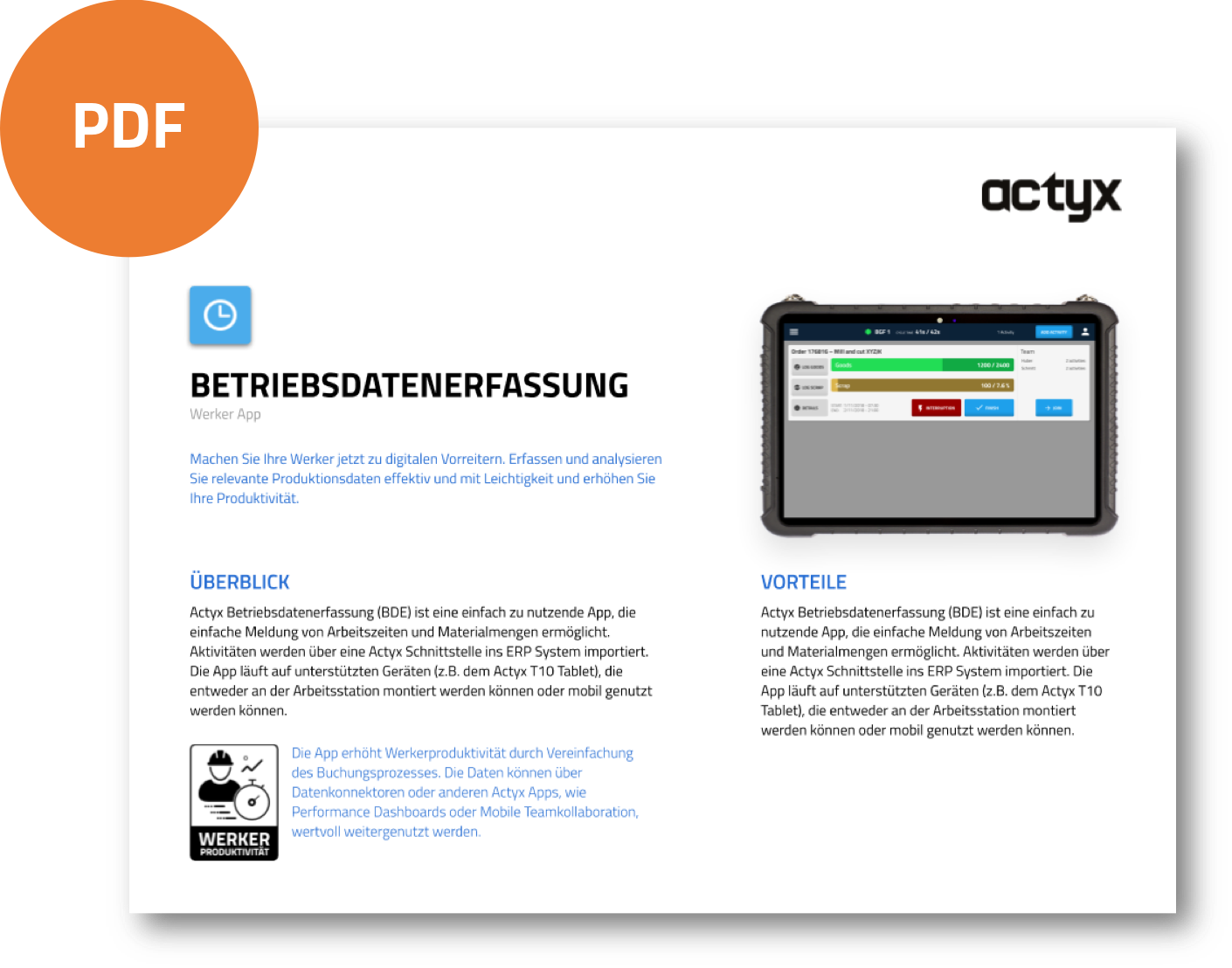 Find all relevant information as PDF Download
Extensions
The MWL app interacts with other Actyx apps as follows:
Bidirectional communication
Activity Management App
ERP integration

proALPHA 5.x/6.x Connector
SAP ECC 6.0 Connector
Data Export App
Mobile Team Collaboration App
Performance Dashboard App
Microsoft SQL Database Connector
Requirements
To receive a list of requirements or to arrange a non-binding consultation, please contact contact@actyx.io.
Configuration parameter
The MWL app is a standard app that is constantly being further developed for all customers. As an app it is highly configurable, with configuration parameters for your use case. For a list of all parameters or to request a non-binding consultation please contact contact@actyx.io.